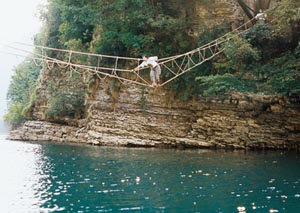 READY? GO..... ESCAPE FROM THE TOWN
You don't need to be an adventure champion to find your harmony with nature.
At Sports in Open Space you can learn to navigate and orienteer with a compass and a map in the outdoor environment.
Our guides will teach you how to prepare a rucksack, to build a shelter for the night and to overcome natural obstacles.
You'll rediscover the pleasure of sitting around a bonfire while looking at the stars and listening to your friends.
When you have to return home, you'll have the impression of leaving something special.
But the Outdoor Experience is a continuous experience. What you wiil have learnt will also be useful for your future trips.
For those who want to learn more, there an additional five-day advanced course.
Come and "find yourself" with Sports in Open Space.


Nature is a school for life. Dear teachers and parents, Sports in Open Space is an excellent outdoor gym and classroom for your students and children. Bring them to breathe the fresh air and grow from the experience. We look forward to meeting you all.

---